I consider myself a spiritual person. Oh, and don't think that's just because I'm an ordained rabbi. Trust me, I know many rabbis who would never consider themselves to be spiritual. One of the places I feel the most spiritual – that is to say, where I feel God's presence most intensely – is on my bicycle.
Sometimes while bike riding, you need an extra push – a gentle nudge. It was acceptable back when I was a little boy who just learned to ride a two-wheel bicycle for my father to give me that little push while I was riding my bike. As an adult, however, that is no longer an option (obviously!). Well, I've now found a way to get that boost of energy on my bike. This summer I was introduced to the Copenhagen Wheel. It's an amazing product from Superpedestrian that learns how I pedal my bike and then integrates that with my natural movements to help me along as needed.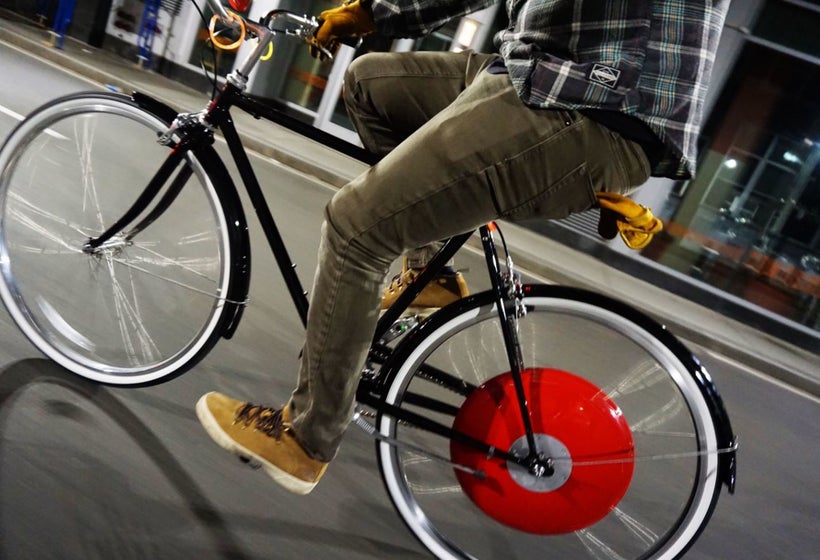 When required, the Copenhagen Wheel is there to provide that boost, which feels like my father giving me that gentle nudge from decades ago. With its cutting-edge robotic technology, the heavy red wheel allows me to ride much farther than I normally would be able.
When I was first told about the Copenhagen Wheel, I didn't completely understand what it was. I knew that I wasn't interested in a motorized bicycle. To me, a motorized bicycle is really a scooter that looks like a bike and you're not getting the exercise of bike riding. What I quickly realized about the Copenhagen Wheel is that it lets you ride normally until you need some assistance. It could be that you need a little oomph to get up a hill, or some help finishing the final few miles of your trek.
When I agreed to try out the Copenhagen Wheel, I was asked for my height, so a proper bike could be assembled. The shiny new bike was put together at Motorless City Bicycle Co., a full-service bike shop in Detroit's uber-hip Eastern Market neighborhood. When my bike was ready I headed down to Motorless City to pick it up. I was so excited when I saw the Copenhagen Wheel on the back of this bike that I wanted to leave my car at the shop and ride the bike back home to the suburbs of Metro Detroit.
I let the heavy, red wheel charge for about an hour in my garage and then turned it on and quickly paired it via Bluetooth to my Android phone (it works flawlessly on an iPhone too). After a few minutes of figuring out how to use the mobile app to control the wheel, I was off for my first ride. As I pedaled, the Copenhagen Wheel analyzed and responded to my torque, power, speed, and pedal position over 100 times per second. This allowed me to have more than ten times more power than on my typical ride.
I loved that it automatically charted my ride on my phone with a full map of the area I rode in and an accurate trail of my route. On my next ride, I let the Copenhagen Wheel know that I wanted to ride for fitness, so the wheel didn't do anything. However, toward the end of my ride, my legs grew sore and the Copenhagen Wheel was ready to assist. This brilliant innovation has allowed me to ride with more seasoned bicycle riders because I can rely on support from the wheel when I need it to be able to keep up with the pack and match their distance.
The Copenhagen Wheel can be installed on almost any bike and the technology naturally integrates human pedaling power using over 70 sensors and multiple computers embedded in the wheel. It will also self-diagnose for safety and reliability, alerting the rider when needed. Superpedestrian's Copenhagen Wheel was invented at MIT and developed by their team of robotics engineers. The wheel has a custom motor, advanced sensors, control systems, and a battery. You can easily choose from Turbo, Standard, Eco, and Exercise modes in the smartphone app to customize your riding experience.
The bright red wheel has changed the way I ride. I would never accept the crutch of a fully motorized bicycle, but the Copenhagen Wheel has transformed my bike into a hybrid, allowing me to ride much farther and to be confident that I'll be able to get back home. This hi-tech innovation in bike riding has been just the right amount of encouragement I need. The Copenhagen Wheel has become the virtual gentle push from dad that you sometimes need when you ride your bike.